Construction worksites are responsible for about one out of every five workplace-related fatalities in the U.S. each year. Safety practices have drastically improved over the past two decades, but even one fatality is a failure. Technology exists to bridge the gap between on-site communication, educate workers about safety best practices, and aggregate health and safety (H&S) data into real-time analytics to pinpoint how to mitigate or eliminate risks altogether.
The issue with most current safety programs is that the data they collect, while valuable for looking back at the progress already made, lacks the insight to make meaningful decisions about future best practices. Most safety programs rely on a static feedback loop that reviews incidents after they happen. This reactive approach to safety management in construction and related industries continues to put workers at risk for injuries or death. The best way to prevent incidents is to predict them, then take proactive steps to reduce the risk before it happens.
Construction safety equals productivity, profitability, and competitive advantage, and a new app called Acknowlogy has been proven to achieve all three.
Current State of Construction Safety
The Fatal Four is a coined term referring to the top four categories causing the most worker fatalities in construction. Among them, falls made up 39 percent of incidents, followed by Struck by Object (8.2%), Electrocutions (7.3%), and Caught-in/between (5.1%)[1]. Compounding the safety issue is a lack of workers: persistent labor shortages in construction are creating additional safety risks by having too few workers. 80 percent of contractors reported being either highly or moderately concerned about safety risks as a result of too few skilled workers on job sites[2]. And the majority of construction workers feel that job productivity is prioritized over safety[3].
Amid labor shortages and the threat of another economic downturn, OSHA continues to push for increased workplace safety. Last year, they conducted a record number of on-site inspections and provided more than 1.3 million construction workers with safety and health training[4]. The most common construction safety violations belonged to fall protection, scaffolding, and ladders[5]. OSHA violations can range from a warning to fines of up to $70,000 per incident[6], so encouraging a safe workplace is as much of a moral issue as a financial one.
As valuable as this data is for looking back and planning for the future, it's already outdated by the time the reports are released. A more effective safety program looks at current efforts, and real-time data that is aggregated to offer predictive analysis of current and future risks.
Safety and Technology: Introducing Acknowlogy
According to Acknowlogy founder Jon Wickizer, his software "is a simple technology tool that enables all workers to engage in their specific work routines while capturing inputs and 'Safety Big Data' that has historically become complacent, done without purpose, not measured and especially not used for the purpose of improvement." The app caters to companies in construction, mining, manufacturing, power generation, and refining, although companies in other industries have found it to be valuable, too.
The way Acknowlogy works is by engaging and motivating workers with daily videos, quizzes, best practices, and other safety shared learning tools. Workers can share feedback about risks they've either encountered or think could happen based on observation or near misses. Finally, the software connects all employees with a real-time feedback loop that isn't available with other platforms. Acknowlogy is as much of an employee engagement tool as a safety app. And it's customizable for each company so every worker has an opportunity to share his or her experience. Thus, everyone on the job site gains accountability and ownership over risks to personal and team safety.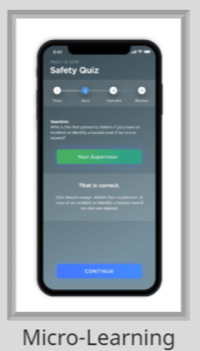 Workers take a safety quiz to ensure they understand current job site safety practices.
Acknowlogy bridges gaps in data to offer better safety management. It provides measurable, transparent, real-time leading indicators of safety performance. Says Wickizer, "People throughout the company want to be measured by their real efforts, their ability to create, their performance as team members and the value they add to the industry. Everyone offers and has the potential to add value but in different ways."
The current pre-task planning and job hazard analysis that takes place every morning on a construction site isn't enough. Though critical to worker safety, often the information is delivered in a way that doesn't engage workers or keep their attention. Acknowlogy transforms the way that safety information is delivered; each worker accesses the daily briefing on his or her phone. As more construction employees from younger generations enter the workforce, developing different ways to communicate and engage with them will be vital to maintaining safety standards.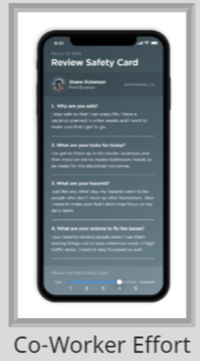 Giving and receiving feedback on coworker performance improves safety outcomes.
Better communication has been shown to improve safety outcomes. The Association of Builders and Contractors found that "companies with high-level managers directly and actively participating in the safety program have a 63% TRIR reduction and 64% DART reduction. Owners and CEOs achieve this, according to ABC, by instilling personal accountability for safety across the company, soliciting feedback on the program and committing resources, among other behaviors."[1]
Companies that are already using Acknowlogy report fewer incidents, better engagement, more relevant and meaningful safety programs, and a more educated workforce. When Acknowlogy delivers data on safety issues immediately, the concerns can be addressed and corrected before they turn into hazards.


Examples of employer dashboards that can be used to customize Acknowlogy and track progress.
Leading indicators are already being collected, but the problems are that the data is not readily visible or communicated and data collection is done without a purpose. Employing a real-time big data tool to
Leading indicators are already being collected, but the problems are that the data is not readily visible or communicated and data collection is done without a purpose. Employing a real-time big data tool to deliver immediate feedback has short- and long-term benefits that are only just beginning to be explored.
There are efforts underway by the National Institute for Occupational Safety and Health (NIOSH) and the CDC to track and measure specific outcomes using Acknowlogy. You can read more about one of these studies here.
Benefits of Real-Time Safety Data Collection
Even small to mid-size construction contractors can have jobs in multiple sites at one time. When people are spread out, it can be hard for supervisors and project managers to connect with their crews. As a result, communication suffers and safety programs are operated on an ad hoc basis, if at all. Despite the challenges, safety on job sites has steadily improved. Where once the goal was to achieve only six fatalities per thousand, for example, now the goal is zero.
Safety programs in mining, for instance, have come so far as to no longer offer much insight into risk management when fatalities occur. Utilizing big data to analyze the current risks is a more proactive approach that can not only prevent workplace deaths but injuries as well. One company reported 25 percent fewer accidents.
Beyond the obvious reduction in workplace incidents, early adopters of Acknowlogy have reported higher productivity and better employee engagement. Over the long-term, insurance rates are expected to be lower as the overall safety environment is improved. There's also a competitive advantage to bidding on jobs and attracting and retaining quality employees when the company has a reputation for being safe.
With any new technology comes a cost; however, the benefits of incorporating a real-time, big data safety technology app like Acknowlogy are many. It will take time to see measurable results on the bottom line, especially since insurance policies rely on measurable safety data, which takes time to compile.
Every foreman cares about the safety of the crew, and every CEO cares about the performance of the company. Better communication and employee engagement have been proven to improve job results across industries. Technology like Acknowlogy can do more than bridge the communication gap between workers and job sites; it has the power to predict safety outcomes.
Whether your construction company plans on adding a safety app in 2020 or is simply looking at ways to operate more efficiently, PBMares can help identify appropriate solutions to your business challenges. Contact Jennifer French, Partner and Team Leader of the PBMares Construction and Real Estate group for questions.
For more information, please feel free to contact us.
[1] https://abc.org/Portals/1/2019%20Safety%20Performance%20Report%20April%202019.pdf?ver=2019-04-08-151109-510
[1] https://www.osha.gov/data/commonstats
[2] https://www.constructiondive.com/news/construction-labor-shortage-exacerbates-safety-issues/531823/
[3] https://www.ehstoday.com/construction/article/21919029/58-percent-of-construction-workers-say-safety-takes-a-backseat-to-productivity
[4] https://www.osha.gov/news/newsreleases/trade/12032019
[5] https://www.mcclone.com/blog/the-most-common-osha-violations-on-construction-jobsites-and-how-to-prevent-them