Source: RSM US LLP.  PBMares is a member of RSM US Alliance. 
The middle market has become ground zero for the cybersecurity threat
SPECIAL REPORT  | 
Get the full cybersecurity report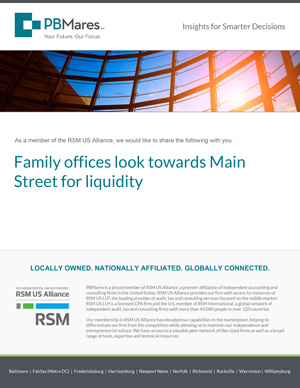 Middle market companies have increasingly become the primary target for cybercriminals, with data security incidents rising incrementally each year. Attackers have realized that large organizations have invested heavily in security measures, and the success rate does not often justify the effort. However, the middle market is big enough to yield significant results for hackers without having to contend with the mature controls of their larger rivals.
In addition, the COVID-19 pandemic has increased the complexity of cybersecurity challenges for the middle market. As the new distributed workforce has become even more dependent on the internet to remain productive, hackers are taking advantage of the crisis by unleashing a variety of attacks that larger organizations are often better equipped to address. And, in an unprecedented public health situation, where organizations must focus on employee safety and keeping the business running, cybersecurity processes require heightened attention.
"Unfortunately, during this historical pandemic, cyber thieves are preying on organizations," commented Ken Stasiak, RSM principal. "As companies address the new normal, we may see a spike in security breaches over the next several months."
Eighteen percent of middle market C-suite executives claimed that their company experienced a data breach in the last year, up from 15% in 2019 and over three times the percentage from just six years ago.
Beyond increasing threats of cyberattacks, the regulatory landscape continues to shift, providing higher levels of consumer protection in the United States and abroad. The European Union's General Data Protection Regulation was implemented in 2018, governing how EU residents' personal information is collected and stored. Domestically, similar individual state regulations quickly followed suit, with a Nevada law taking effect in October 2019 and California regulations becoming effective at the beginning of this year. Additional state laws will take effect this year.
What's inside the 2020 Cybersecurity Special Report?
The report includes in-depth analysis and benchmarking information about several key areas, including:
Evolving cyberthreats, and how companies can prepare
Information and data security
Cyber insurance
Ransomware attacks
Business takeover threats
Privacy protections compliance
Migration to the cloud to ensure data security
---
This article was written by RSM US LLP and originally appeared on 2020-05-06.
2020 RSM US LLP. All rights reserved.
https://rsmus.com/economics/rsm-middle-market-business-index-mmbi/cybersecurity-special-report.html
RSM US Alliance provides its members with access to resources of RSM US LLP. RSM US Alliance member firms are separate and independent businesses and legal entities that are responsible for their own acts and omissions, and each are separate and independent from RSM US LLP. RSM US LLP is the U.S. member firm of RSM International, a global network of independent audit, tax, and consulting firms. Members of RSM US Alliance have access to RSM International resources through RSM US LLP but are not member firms of RSM International. Visit rsmus.com/aboutus for more information regarding RSM US LLP and RSM International. The RSM(tm) brandmark is used under license by RSM US LLP. RSM US Alliance products and services are proprietary to RSM US LLP.