Consulting Services to Help You Chart a Course for Success
Not all surprises are good. Unforeseen financial challenges, whether you're running a business or simply managing your personal finances, rank among the worst. It's important to your long-term success that you Identify and manage threats before they're active problems. Not only does this give you peace of mind, but it allows you to recognize potential opportunities early so you can take a proactive stance and make the most of your options.
PBMares helps business and individual clients overcome the unexpected, capitalize on opportunities and achieve their goals no matter what else the day may bring. Whatever's coming down the pipeline, our experienced professionals help you find the best path forward.
SOLVING BUSINESS ISSUES
"I never hesitate to refer a client to PBMares.  I know the professionals at PBMares, and respect their knowledge, experience and approach to customer service.  I trust their professional advice and believe my clients are in good hands."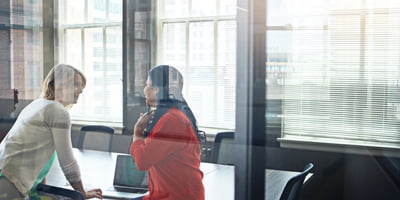 Access a full range of services that deliver the solutions you need to successfully navigate your business and individual concerns.
Many business and financial issues don't fit neatly under the umbrella of traditional accounting, audit and compliance services. That's no problem when you partner with PBMares. A strong network of affiliated consultants means you'll have access to leading specialists for any issue, any time.
Business valuations are needed for a variety of reasons, including mergers, buy/sell agreements, shareholder disputes, divorce and estate planning. When you choose a PBMares professional to perform your valuation, you are getting a team with the experience, expertise and judgment to deliver an independent analysis supported by accepted valuation methodologies.
Cybersecurity is one of the top issues businesses face. Threats can come from the inside, or they can be external. It is important to feel you are protected as new threats evolve. Our team of cyber experts will work with you to develop a customized plan that gives you the peace of mind you need to feel protected against new threats.
Preventing financial fraud is the best defense. Unfortunately, financial fraud can happen even with controls in place. That is why you need PBMares on your side. With a traditional investigative experience, PBMares is up-to-date with cutting-edge forensic accounting techniques and is able to provide fraud vulnerability and risk assessments designed to test the effectiveness of your corporate compliance programs. Our expertise includes proactive and reactive services concerning compliance with statutes such as the BSA, AML, the Patriot Act, FPCA, ITAR, OFAC, BIS, EAR as well as with the SEC and other regulatory agencies. To give you the comfort level you need to feel you are protected, your compliance efforts will be measured against the factors that government prosecutors and regulators use to determine corporate responsibility for any illegal actions of employees, agents or others.
The compliance and administrative burdens on employer-sponsored health plans and healthcare providers are immense. Understanding what payments, denials or coding may contain errors is a real headache. The professionals of
TMDG
, a PBMares affiliate, can help you better understand and reduce your risks.
Using proven methodologies, our experts look at your organization's risk management processes. They identify, target, assess and mitigate key risks within the claim cycle for the purpose of safeguarding assets. For employer-sponsored health plans, our professionals conduct:
Risk-based audits
Electronic claims audits
Statistical claims audits
Operational reviews
Focused claims audits
Offering retirement plans and programs is a tried-and-true way to attract and retain top talent. Many plan options are available, and
designing a plan
that will benefit you as well as your employees can be complicated. With clients ranging in size from small offices to companies with 2000+ employees, PBMares experts have the depth of experience to help you customize a plan that meet the needs of the company as well as its key employees.
Our experts also are available for employee benefit plan audits and we currently serve as the third party administrator of nearly 200 plans.
As a responsible business person, part of determining whether to move forward with a new venture or deciding to continue an existing product or service is conducting a profitability analysis. This analysis considers factors such as the cost of keeping and/or acquiring customers, customer lifetime value and market share. Understanding these kinds of issues helps you determine how to move forward and be profitable. Let us analyze your profitability so you can make better business decisions to increase it.
Having a strategic business plan in place before embarking on a new endeavor—a business expansion, succession plan or an entirely new business venture—has never been more important than it is today. There are many reasons for this, but the most important one might be that many historically successful tactics are being disrupted. These changes can affect every aspect of your business, from sales strategies to personnel management. Our industry has not been immune from these changes.
That's why the PBMares team is well-prepared to help you design and implement a strategic plan structured enough to help you achieve your business goals and nimble enough to change along with market forces.
Successful business transactions depend on the highest quality of insight and advice to deliver the benefits you want. For mergers and acquisitions, private placements of equity and debt, and related financial advisory services like business valuations, fairness opinions and restructuring advice, only the most experienced and knowledgeable professionals can give you confidence that the decisions you make now will achieve your financial objectives for the future.
Whether you are looking to sell your company, expand through acquisition or raise capital to finance growth, PBMares provides a range of transaction advisory services to the middle market to help you reach your goals. As one of the largest accounting and consulting firms in the United States, we offer you experienced professionals working to provide exceptional guidance in some of the most important and sensitive decisions you will make.
Having individual wealth comes with great responsibility: to yourself, your family and your goals and objectives. When you search for a wealth advisory team, you need to consider a firm that looks at all facets of your financial life through an objective, comprehensive planning lens. PBMares Wealth Management prioritizes the planning process because ultimately a sensible, analytical approach should determine which direction you should go to increase the probability of success.
In order to create a plan intended to help you achieve your retirement and estate planning goals while minimizing your taxes, your wealth advisory team will walk you through our four-step process:
Discover – determine what your financial priorities and objectives really are
Analyze – execute a detailed review of your investment and insurance portfolios, cash flow, balance sheet, tax and estate plan
Identify – present you with key opportunities to optimize your financial plan, taxes, investment and insurance portfolios
Implement – administer account paperwork, provide clear and concise reporting, execute the investment strategy and provide ongoing advice as your situation evolves
Considering a Consulting Service?
Businesses of all sizes and across all industries can benefit from having a consultant assist with some aspect of their business. We have consulted with diverse businesses in the fields of construction, government contracting, hospitality and not-for-profit, to name a few.
CONSULTING INSIGHTS
MEET YOUR TEAM LEADER