Is Your Company Safe from Cyber Attacks?
Today's most extreme threats to organizational stability often come in the form of digital dangers. Data breaches and other cybercrimes pose a substantial risk to the successful operation and profitability of your business, as well as the clients you serve and the professionals you employ. Protecting your data and your business from cyber threats has never been more critical.
Most Common Cyber Attacks Today
What is a Cyber Attack?
According to Ready.gov, an official website of the U.S. Department of Homeland Security, "Cyberattacks are malicious attempts to access or damage a computer or network system. Cyberattacks can lead to the loss of money or the theft of personal, financial, and medical information. These attacks can damage your reputation and safety." 
Cybersecurity involves preventing, detecting, and responding to those cyberattacks that can have wide-ranging effects on individuals, organizations, the community and the nation. 
According to the Federal Bureau of Investigation (FBI) in 2021, IC3 continued to receive a record number of complaints from the American public: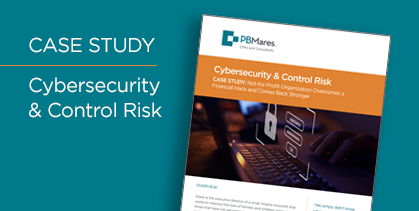 FREE DOWNLOAD
Not-for-Profit Overcomes a Financial Hack and Comes Back Stronger
A small Virginia nonprofit thought they were doing all the right things in terms of cybersecurity, cyber insurance and safety. They found out the hard way that it wasn't enough to avoid the damage from a hacker that knew how to manipulate their weak points.
MEET YOUR TEAM LEADER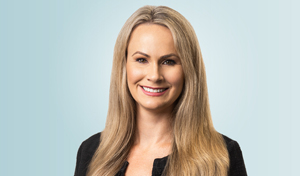 Senior Manager, Cybersecurity & Control Risk Services
Top Four Types of Cybersecurity Threats to Small Businesses
1. Malware 
Malware (malicious software) is an umbrella term that refers to software intentionally designed to cause damage to a computer, server, client, or computer network. Malware can include viruses and ransomware. 
2. Viruses 
Viruses are harmful programs intended to spread from computer to computer (and other connected devices). Viruses are intended to give cybercriminals access to your system. 
3. Ransomware
Ransomware is a specific type of malware that infects and restricts access to a computer until a ransom is paid. Ransomware is usually delivered through phishing emails and exploits unpatched vulnerabilities in software. 
4. Phishing
This type of cyber-attack uses email or a malicious website to infect your machine with malware or collect sensitive information. The emails appear as though they've been sent from a legitimate organization or known individual, and often entice users to click on a link or open an attachment containing malicious code. After the code is run, your computer may become infected with malware. 
How Can PBMares Help You Mitigate Your Risk?
PBMares provides a complete assessment of your organization's cyber risks, as well as, a comprehensive cybersecurity plan to minimize vulnerabilities and manage strategic threats.
PBMares provides a complete assessment of your organization's cyber risks.  
PBMares provides a comprehensive cybersecurity plan to minimize vulnerabilities. 
PBMares provides tools to manage strategic threats. 
Our experienced cyber risk professionals have been performing IT audits and risk assessments for 15 years As CPAs and consultants, we: 
Understand intimately your organization's unique processes and operations.  

Set the industry standard for complete cybersecurity services and solutions  

Tailor solutions to your risk profile and network 

Oppose a cookie cutter standard model as vulnerabilities must be individualized to your business situation 

Identify weak security controls and cyber risks and assist in managing these risks 

Recommend sustainable solutions that provide the foundation for a strong cybersecurity footprint  

Grow as your company continues to grow 

CYBERSECURITY INSIGHTS
See our complete list of Cyber & Control Risk Services