PCI compliance failure has a ripple effect with security breaches at an all-time high
Research indicates that 83% of US companies were impacted by a cyberattack
and 45% of US companies detected and reported a data breach in 2021.
Source: [1] [2]
These numbers are likely understated, given that many breaches go undetected.
Strengthen customer trust by minimizing fraud and improving transaction security for CHD
How to achieve and maintain PCI compliance:
Protect your customers and their data by keeping your organization PCI compliant.
In our digital age, lax security can enable criminals to easily steal and use personal consumer financial information from payment card transactions and processing systems. Minimizing financial fraud and improving transaction security strengthens trust between your organization and the customers you serve when accepting, processing, storing, and transmitting cardholder data (CHD). Avoid costly PCI DSS-related litigation and damage to your reputation and your brand by achieving and maintaining PCI compliance.
PCI DSS compliance involves:
Adhering to protection of CHD
Demonstrating compliance through periodic scanning and reporting
Obtaining validation from a Qualified Security Assessor (QSA) and Approved Scanning Vendor (ASV)
The exact PCI DSS compliance requirements vary based on the number of credit card transactions you process annually, as well as the specific requirements of the major payment card brands or acquirers.
However, with more than 350 potential control requirements to address, demonstrating PCI DSS compliance can quickly become an onerous process.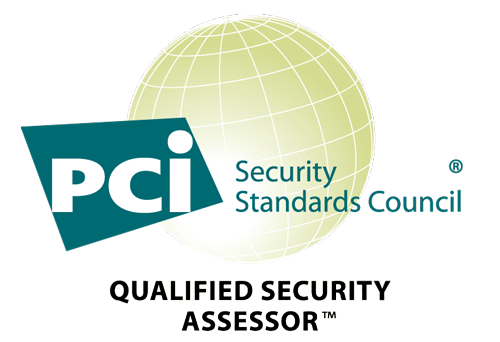 PBMares is a Qualified Security Assessor (QSA) and partners with an Approved Scanning Vendor (ASV).
For more than a decade, we've been working with boards and upper management to prepare against high-profile cyber-attacks and shore up digital trust.
QUESTIONS? CONTACT ME TODAY.
PBMares PCI Compliance Services
As an authorized QSA, PBMares will help your organization achieve and demonstrate PCI DSS compliance under the current framework version 3.2.1. Our QSA team can also help your organization transition from version 3.2.1 to version 4.0 and address emerging threats and technologies with innovative solutions.
With our team's expert guidance, strengthen your overall security posture, promote security as a continuous process, and tackle every one of your PCI DSS compliance needs:
Fines, fees, litigation, reputation damage, and lost business are just the beginning:
Cyber attacks can take up to a month to be fully contained.

Companies that experience a breach underperform the market by more than 15% just three years later.

55% of companies suffer losses due to compliance failure.

In one study, business leaders were more concerned about damage to reputation and business viability than compliance fines. 
Source: [1] [3]
Are You PCI DSS Compliant?
PBMares is an active PCI DSS Qualified Security Assessor Company. Download a copy of our services guide today and learn more about compliance requirements and how we can help you.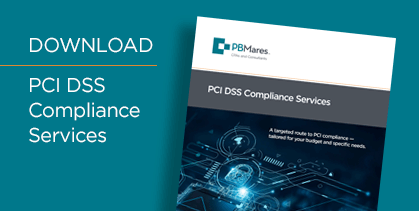 OUR PROCESS
Achieving PCI DSS Compliance
PCI DSS compliance efforts follow yearly and quarterly cycles. Each cycle can be divided into a 5-step process as shown in the diagram.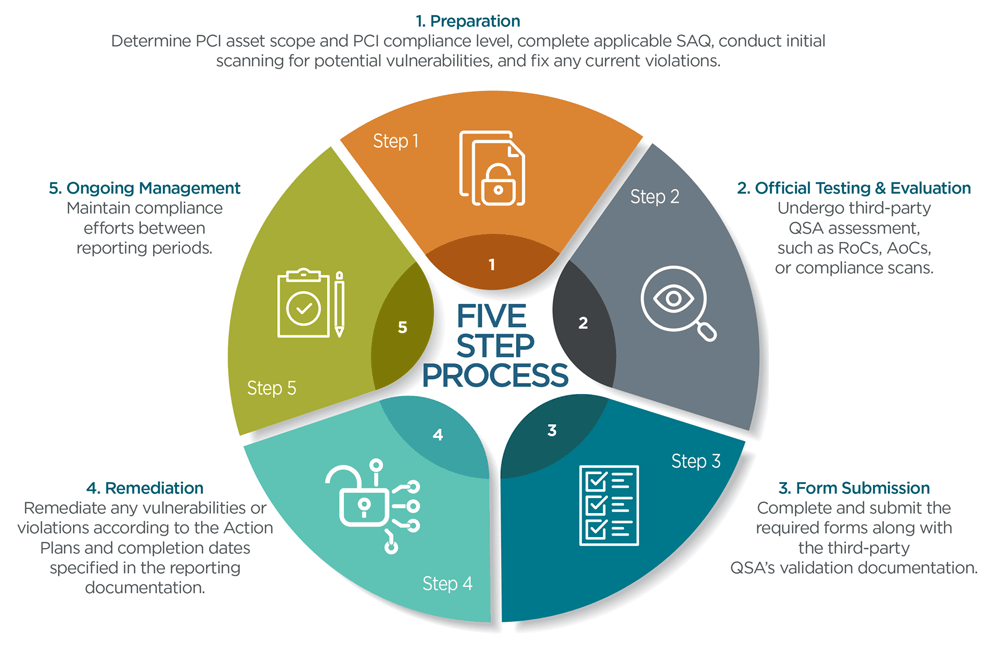 Frequently Asked Questions
What is PCI DSS Compliance?
All entities that store, process, and/or transmit cardholder data (CHD) must achieve and demonstrate data security compliance with the Payment Card Industry Data Security Standards, collectively referred to as PCI DSS. Additionally, merchants who accept or process payment cards must also comply with PCI DSS.
Who Needs to Be PCI Compliant?
Any business that handles payment data (from physical banks, retail locations, online payment processors, and/or e-commerce sites) must be able to prove PCI compliance.
You may need to demonstrate compliance to customers and/or outside regulatory agencies.
What Are the Benefits of PCI Compliance?
Minimize the risk of cyber attacks and regulatory penalties
Strategically develop a roadmap for incident response planning
Demonstrate your commitment to security
Increase protection for cardholder data
Deepen customer trust
Maintain and improve your organization's reputation
Why Should We Choose PBMares' PCI DSS Practice?
You need a partner who is a registered QSA vendor and has breadth and depth of experience with cyber assurance.
But you also need a team that will use the big-picture perspective of your organization and a long-term view of your security needs.
And you want experts who get the job done without being invasive, take the time to explain new concepts with humility, and stay on top of new standards, so you don't have to.
That's exactly what you get with PBMares.
Don't fall behind on PCI compliance.

We'll help you navigate the early stages of PCI standards and the changes yet to come.
Both large and small businesses are responsible for protecting cardholder data by complying with PCI Data Security Standards (PCI DSS).
Falling behind on PCI compliance exposes your organization to significant penalties. In addition to being costly, compliance failure leaves the business vulnerable to the many other negative impacts of a data breach.
But because PCI compliance is a complex and constantly evolving set of standards, many organizations struggle to keep up with the ongoing updates designed to incorporate new best practices.
Sources:   

[1] 2021 KPMG Study   

[2] 2021 Thales Data Threat Report   

[3] Comparitech Study