Gain on Your Goals with an Integrated Approach to Tax
There's nothing simple about taxes. It's more than just filing this year's returns and taking steps to reduce the amount you'll pay the next year. What about the big picture? As your business grows and changes, so too does your tax situation. Given these, your approach and planning should change as well. Having a trusted advisor who can help you form a comprehensive tax strategy that combines multiple elements to reduce your total tax liability and enhance cash flow over many years is a necessity if you wish to keep your upward momentum.
PBMares' tax professionals help you create tax savings now and over the course of your business' entire lifecycle. We anticipate future events and examine their tax impact in order to create a long-range plan that maximizes profitability and ensures you never pay more than your proper share of taxes. Our disciplined approach incorporates deep knowledge of federal, state and local tax laws and takes into consideration tax-relevant elements like business growth, real property, investment and divestiture. For families with high net worth, these elements also include the tax impact of retirement, charitable giving, estate and succession plans.
SOLVING BUSINESS ISSUES
"I'm a non-resident retired military member and multi-property business owner who is married to someone on active duty, so I have a very complicated tax situation. PBMares doesn't work for me, they work with me. As the accounting backbone for my business, they allow me to focus on my personal and professional growth and needs. PBMares takes the time to understand my needs and works with me on my level."
"I've had PBMares take care of my business and personal tax needs for several years. They continually deliver quality service and expert tax advice. I highly recommend them."
"We've been using PBMares for well over 10 years now, both from a business and personal aspect. We would highly recommend them to anyone wanting to make use of their services – both from a company and personal point of view."
"PBMares is highly professional and knowledgeable. I love having comprehensive personal and business tax expertise under one roof."
"I have been a client of PBMares (and firms that have joined the PBMares family) for over 20 years. Over that entire period, customer care has always been evident in the responsiveness, helpfulness, and courtesy afforded me by the staff. I have always had my questions answered completely and to my fullest satisfaction."
"I am a long-time client of PBMares because the staff knows how to treat their clients. In addition to the expertise and knowledge of the US Internal Revenue tax requirements, PBMares completely understands my tax situation."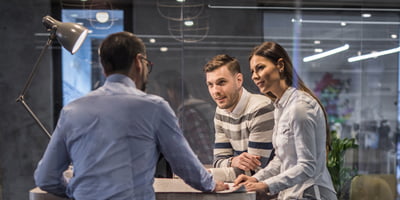 Let PBMares' tax professionals help you create tax savings now and over the course of your business' entire lifecycle.
At PBMares, we proactively advise you on steps you can take now to minimize lifetime tax liability and also maximize cash flow and flexibility to help your business grow. Knowing what to expect helps you avoid surprises and complications. And with direct access to professionals who can answer your questions, you can rest assured that you're in full compliance. Our complete range of tax services for businesses and high net worth families and individuals includes:
TAX INSIGHTS
MEET YOUR TEAM LEADER