Enhancing Value with Transaction Advisory Services
Successful business transactions depend on the highest quality of insight and advice to deliver the benefits you want. For mergers and acquisitions, private placements of equity and debt, and related financial advisory services like business valuations, fairness opinions and restructuring advice, only the most experienced and knowledgeable professionals can give you confidence that the decisions you make now will achieve your financial objectives for the future.
Whether you are looking to sell your company, expand through acquisition or raise capital to finance growth, PBMares provides a range of transaction advisory services to the middle market to help you reach your goals. As one of the largest accounting and consulting firms in the United States, we offer you experienced professionals working to provide exceptional guidance in some of the most important and sensitive decisions you will make.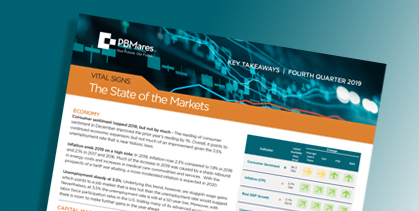 As business owners ourselves, your challenges and concerns are the same ones we face using our experience as investors, entrepreneurs and operators of private, middle market companies. Clients rely upon PBMares' unique combination of investment banking, investing and operating experience to achieve their financial objectives. Look to PBMares for comprehensive transaction advisory services, including:
Considering a Business Transaction?
With decades of experience serving a wide range of industry sectors, middle market companies in the following industries are some of those we have helped with our extensive knowledge:
Securities transactions conducted through PBMares Capital Markets, LLC. Member FINRA.
PBMares, LLP is an independent firm. PBMares Capital Markets, LLC is a wholly owned subsidiary of PBMares, LLP.
For more information, please visit BrokerCheck.
INSIGHTS
MEET YOUR TEAM LEADER