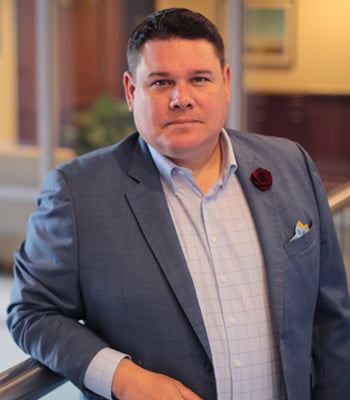 ---
"As the son of a logistician, I enjoy putting the pieces of a plan together and watching people meet their ultimate goals. As the son of a teacher, I love educating, and explaining the "why". I believe my greatest joy is a byproduct of my passion to help others obtain what they seek, and what they, themselves did not realize they were striving for."
---
Bradley C. Wilks, LACP
Senior Wealth Advisor
Fairfax
As a Senior Wealth Advisor in PBMares Wealth Management's Fairfax office, Bradley Wilks provides wealth management advice, risk management, and comprehensive financial planning to his clients. He holds a Life and Annuity Certified Professional (LACP) license from the National Association of Insurance and Financial Advisors (NAIFA) Commission.
Brad has more than 17 years of experience in the financial services industry. He began his career in public accounting before starting his own financial services firm with a focus on wealth management and holistic financial planning.
Formerly a Senior Partner of a large mutual insurance company, Brad focused on risk management planning for individuals and businesses. He is a subject matter expert in the area of risk management, specifically, business succession planning, estate preservation, asset protection, and overall risk mitigation.
Brad attended Roanoke College and The University of Virginia and was a goalkeeper for the Roanoke College Men's Soccer team.
An active volunteer in his local community, he has served as a Partner in Hope with St. Jude Children's Research Hospital for the past 15 years.
Brad is an avid angler, golfer, bourbon collector, and award-winning BBQ Pitmaster and lives in the City of Fairfax with his wife Elaine and their son Wyatt.
Insights Authored by Bradley C. Wilks, LACP