Foundations & Endowments
Knowledgeable Financial Advice, Management, and Education for Board Members and Leadership
Just like individuals and families need help with their investment strategy and retirement planning, foundations, and endowments – and the boards that run them – need expert financial advice. Because these boards are required to make decisions in the best interests of the organizations they manage, and can be held liable for uninformed or poor decisions, it is vital to work with a team that understands how foundations work and can provide knowledgeable, evidence-based advice.
Helping you properly manage the foundation's money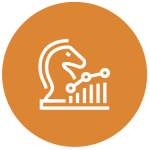 We see the role we play with foundations and endowments as an extension of the board, expanding their investment options. Board members frequently tap into our knowledge of markets and look to us for input as they make decisions on how to properly manage the foundation's money. Additionally, we are a great resource as new board members join, quickly getting them up to speed on their fiduciary responsibilities and answering questions they have about their new role.
What you can expect when working with PBMares Wealth Management
One of the biggest responsibilities for any foundation board or endowment trustees is to select the right financial manager. We will conduct an initial portfolio analysis to determine if your current investment allocations and fees are appropriate. Once we come on board, we will implement any necessary changes, always keeping your mission and promise to your audiences at the heart of decisions we make. We continually monitor your assets and regularly educate you about investment philosophy, answering any questions you have.
How do we help you?
By using our academic, evidence-based investment approach, we can work with your members to make the appropriate investments, so your endowment grows, and you have the resources you need to fund the foundation's causes. You can expect us to:
Analyze
your current investments to ensure you are not paying too much and are getting the returns you need
Adjust
 your portfolio as needed to meet your fiduciary duties and support your mission
Ensure 
your cash flow is properly managed
Educate
 new and current board members and trustees on investment philosophies and responsibilities
Some of the services in this offering include:
Board member education
IPS Review
Investment analysis
Portfolio construction
Investment monitoring
We would be more than happy to talk to you about your foundation or endowment's current position and see if we are a good fit for its financial management.