Recovery Solutions for Businesses
The rapidly changing nature of the Coronavirus (COVID-19) prevention efforts have left many businesses impacted in ways that were impossible to predict. As new information is released from federal, state and local government agencies, we are here to help you.
We Can Help You Navigate: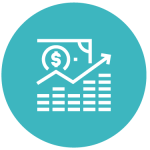 Paycheck Protection Program (PPP)
PPP Forgiveness
PPP Flexibility Act
Payroll Tax Deferral
CARES Act
HEROES and HEALS Act
Contact a Member of Our Quick Response Team
If you have questions or need assistance with a COVID-19 concern, contact a member of our Quick Response Team. They are on hand to address immediate questions and look forward to speaking with you.
Tax, Business Advisory & Consulting Services
Mandated business closures and stay at home orders have left many in a challenging position. Now more than ever, business owners need to understand their financial position and options for the short and long term. Although Washington D.C. has enacted new laws and regulatory relief, businesses in various states may require different levels of support. Our partner company, PBMares, LLP, offers a list of services to help address common COVID-19 business challenges.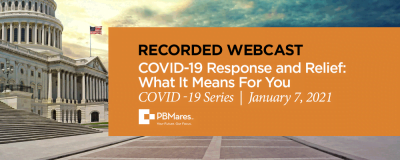 PBMares' tax experts provided insights and analysis on the latest $900 billion COVID-19 relief package passed by Congress that will deliver long-sought cash to businesses and individuals and resources to address the COVID-19 pandemic.  This webinar breaks down the significant changes as of January 7, 2021.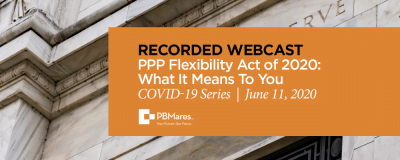 The Paycheck Protection Program (PPP) Flexibility Act of 2020 contains a number of changes (and good news) for small businesses. It eases the restrictions on how the PPP loan money must be spent in order to be forgiven.  In this webinar, Rob Klingensmith and Daniel Yoo analyze the numerous changes in the legislation.  This webinar breaks down the changes as of June 11, 2020.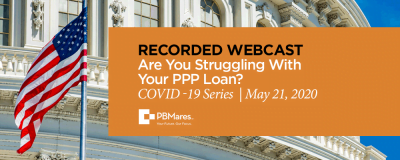 This webinar covers Paycheck Protection Program (PPP) loan forgiveness and loan management, helping you navigate the ever-changing rules and regulations of this CARES Act financial provision. PBMares' tax advisors, Sean O'Connell and Kasey Pittman, along with PBMares partner, Rob Klingensmith, provide up-to-the minute analyses as of May 21, 2020.