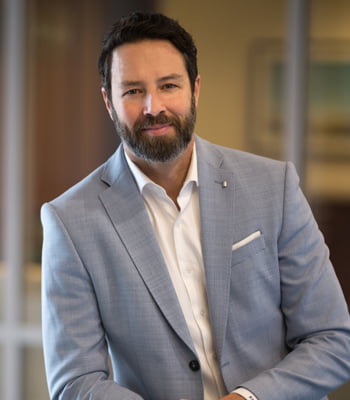 ---
"I rescued people in the Coast Guard for a living and wanted to continue to help people in a meaningful way. Financial planning has proven to be one of the best ways to create positive and significant changes for my clients."
---
Rob Klingensmith
Managing Director
Fairfax
With more than 19 years of investment and financial services experience, Rob Klingensmith is charged with managing the strategic direction of PBMares Wealth Management. This includes enhancing growth through increased market penetration and targeted acquisitions within the firm's footprint in the Mid-Atlantic.
As a Series 66-certified investment advisor, Rob was previously the CEO of a private bank catering to high net worth individuals and financial institutions throughout Europe. In his role as CEO, he focused on operations and business development.
Rob has also worked as a Senior Partner for a leading mutual life insurance company, growing and managing a team of advisors, as well as serving as a Managing Director for a private equity firm.
A veteran, Rob spent eight years in the U.S. Coast Guard as an Aviation Survival Technician (Helicopter Rescue Swimmer). He executed search and rescue missions on land and at sea in Alaska and California.
Rob has served on the boards of the Fairfax Symphony Orchestra, Boulder Crest Retreat for Wounded Warriors, and The Viola Vestal Coulter Scholarship Foundation. He was featured as the cover story in Wealth and Retirement Planner magazine, writing about leveraging artificial intelligence to drive trading signals.
He enjoys fly fishing, snowboarding, and painting. He lives in Washington, D.C. with his two children.