Insurance & Risk Management
Safeguarding Your Investments from the Unpredictable and Unanticipated
Our holistic approach to wealth management includes ensuring that our clients have the appropriate insurance policies in place that fit with their overall financial plan. As a fiduciary required to put our clients' best interest first, we look for the right products and carriers for your specific needs, so you are prepared for whatever the future brings.
We help you find the right amount of coverage.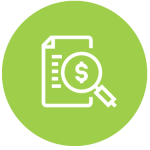 We do not offer pre-packaged insurance bundles. Rather we look at your overall picture, make recommendations for the types of policies you need, then help you find and purchase the right kind – and amount – of insurance. This includes common policies like life, disability, and long-term care, but also goes further to determine if you need to invest in policies to protect your business as well. We are truly carrier-agnostic, which gives us access to a broader range of policies and better pricing.
It is our duty to keep your best interests at heart.
In addition to access to a universe of insurance options, we include risk mitigation and insurance review as part of your larger financial plan. During the review process, we will carefully evaluate how much, and what type of, insurance you need to protect your assets and reach your future ambitions. Is a universal life or term policy best for you? Do you need key employee or disability buy-out insurance to protect your business? We ask a lot of questions and look at the big picture so we can recommend the policies, carriers and amounts you need to be well – but not over – protected.
How do we help you?
You have worked hard to build your wealth and protect your family. The proper insurance will continue to provide a level of security when life's unanticipated events occur. Most insurance and risk management reviews follow a pattern like this based on your needs:
Evaluate 
your current policies and situation
Determine
types of insurance policies and coverage amounts needed
Research 
and recommend the best options and carriers
Continue
insurance reviews for updates as your life changes
Some of the services included in this offering include:
Wealth preservation and risk analysis
Life insurance review
Long-term care needs analysis
Disability coverage
We can help you with all of your financial planning and proper risk management.
Insurance is a big part of that overall picture. Call or email us today to schedule a discovery meeting to discuss your current coverage and long-term aspirations.