Retirement Planning Services
Planning for Retirement on Your Terms
Retirement means something different for everyone. Some want to retire to a golf course in Florida, while others want to travel and spend more time with family. Some want to start a hobby business, continuing to work, but at a slower pace. We want you to have the retirement that you envision, so we spend time uncovering what you really want, create a plan to get you there, and adjust as needed along the way.
What makes our approach unique?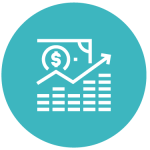 As a fiduciary firm, we have an ethical and legal responsibility to do what is in your best interest. In most cases, we start with a portfolio analysis so we can discuss where you are now, what risks you are taking, and the costs of your current investments. With this information along with a review of your current income, savings, assets, and liabilities, we will create a retirement projection to assess what needs to be done to get you where you want to be in 10, 20, or 30 years. We serve as your sounding board, answering any questions, and educating you on the options so you can make informed decisions.
What you can expect when working with PBMares Wealth Management
Creating a retirement plan shouldn't be scary or intimidating; in fact, it should be exciting! You work hard and we want to help you enjoy the fruits of your labor by allocating the necessary funds for retirement while also safeguarding assets to help aging family members, create safety nets for your children and grandchildren and plan for your estate too.
How do we help you?
Understand your personal, business and family goals Analyze your current portfolio Project your financial prospects Educate you on options and develop a roadmap for the future
As your life and the market shifts, we will make recommendations and modifications to ensure your short- and long-term targets are met. When you need additional resources, we can assemble the team you need for insurance, tax, and estate planning too.
Some of the services in this offering include:
Lifestyle & budget review
Pre-retirement risk analysis
Pension & Social Security analysis
Retirement & defined benefit plans
Company stock option analysis
It's never too early to start saving for retirement.
Contact one of our team of advisors to schedule a discovery meeting to discuss where you are now and where you want to be in the future.