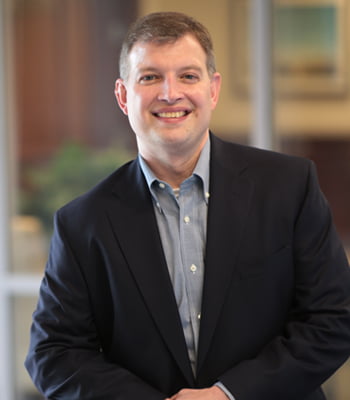 ---
"I enjoy working with and helping others use planning strategies to achieve positive results. My main objective is ensuring clients have peace of mind by knowing they are wholly prepared for the future."
---
Daniel Bender, CPA, PFS, CFP®
Director
Fredericksburg
Dan Bender has 23 years of experience in the financial services industry. Along with his duties related to PBMares Wealth Management, Dan is a partner of PBMares, LLP where he specializes in income tax planning.
Dan is a Certified Financial Planner and a Certified Public Accountant with a Personal Financial Specialist credential. He received a Bachelor of Business Administration in Accounting from James Madison University.
He relocated to Fredericksburg upon graduation and has lived and worked with PBMares in the Fredericksburg office for his entire career. Dan currently lives downtown and actively supports not-for-profits in the local community including serving as treasurer for organizations such as the Central Rappahannock Heritage Center, 4-H, and Fredericksburg Center for the Creative Arts. He is also a past member of the Stafford Rotary Club.
When not working, Dan enjoys spending his free time with his two children.