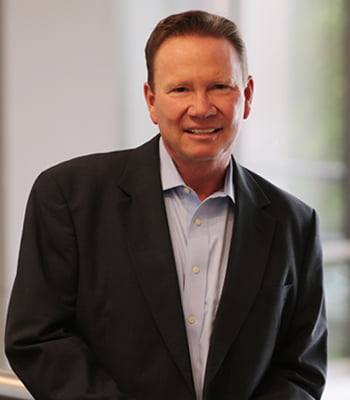 ---
"I enjoy being a trusted advisor and helping clients secure a future that includes ensuring their money serves their needs now and in the future. A big part of that is ensuring they don't outlive their money."
---
David Bush, CPA, PFS, CFP®
Director
Williamsburg
David Bush has been involved with the financial service industry for over 30 years and offers a unique skill set that combines strong tax knowledge and wealth management expertise. He focuses on creating comprehensive wealth strategies for his clients to help guide them through their financial journey.
David is uniquely positioned to serve high net worth clients and also serves as a partner with PBMares, LLP. With deep roots in the CPA profession, he has earned the trust of his clients by consistently delivering sound objective advice and serving as a partner with his clients. David values the trust his clients place in him and leverages his tax expertise by combining it with evidence-based investment knowledge to create a clear path for clients to achieve their financial goals.
David is a Certified Public Accountant, a CERTIFIED FINANCIAL PLANNER™ professional, and a Personal Financial Specialist. He is a graduate of Virginia Tech where he received a Bachelor of Science in Accounting.
An active member of the Williamsburg community, David serves in leadership positions on numerous civic and charitable boards including the Williamsburg Land Conservancy, Superintendent's Business Advisory Council, Chesapeake Bank, Kiwanis Club of Williamsburg, Greater Williamsburg Chamber & Tourism Alliance, Lead Historic Triangle Alumni, Hospice House and Support Care of Williamsburg and the Williamsburg Health Foundation.
David enjoys running, cycling, playing golf, and spending time with family.