Important Notice ~ We want to alert you to an important change regarding the secure electronic signature platform we use. Emails requesting your signature will still come from your usual point of contact—usually a Client Services Support team member—but the platform is now Safe Send Returns.
PBMares Client Portal*
As a client of PBMares, you can send and receive files securely and efficiently through the PBMares Client Portal. (If you wish to access PBMares Wealth Management portal, please click here.)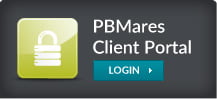 *You must be registered to use the PBMares Client Portal. If using Internet Explorer, version 10 or higher must be used for access. Please contact your PBMares representative if you need access or require assistance. Click here to view instructions for the PBMares Client Portal.
Tax Document Submissions (if not registered for PBMares Client Portal) and E-File Form 8879 Submissions
Please visit our new page at www.pbmares.com/upload-documents.