PBMares Client Portal*
Important Note: The PBMares Client Portal will be down for maintenance from 8 p.m. on Friday, January 3, through 8 p.m. on Sunday, January 5. We apologize for any inconvenience this causes.
As a client of PBMares, you can send and receive files securely and efficiently through the PBMares Client Portal.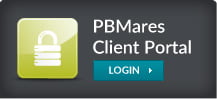 *You must be registered to use the PBMares Client Portal. If using Internet Explorer, version 10 or higher must be used for access. Please contact your PBMares representative if you need access or require assistance. Click here to view instructions for the PBMares Client Portal.
E-File Form 8879 Submissions
If you are interested in returning your Form 8879 electronically, please follow the instructions detailed below. Once you click on an office link, a new application will open allowing you to upload your form.
Instructions
Click on an office link below to securely upload signed E-File Form 8879 to PBMares.
Enter your email address when prompted and click PROCEED.
On the next screen, click BROWSE to browse your computer to select the file(s) to upload and click OPEN.
Optional: Type a description in the Notes section if you wish.
Click UPLOAD AND SUBMIT under Notes and wait for the "Thank You. File was submitted successfully." window before closing the window.
You will receive an email confirmation upon successful completion.
Office Links