PBMares Cares Second Grant Cycle Opens for 2022
PBMares has launched the second grant cycle of its Corporate Social Responsibility Program, PBMares Cares. The program funds nonprofits whose work aligns with the Firm's giving mission in the areas of Education and Economic Impact. Within each area are two categories: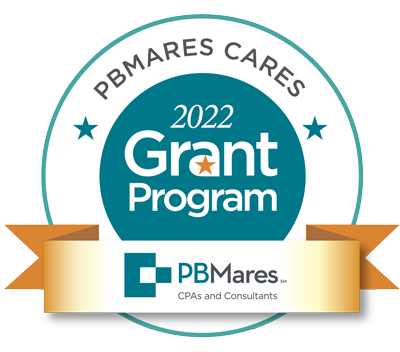 Education
Financial Literacy
Providing Equitable Access to the Accounting Profession
Economic Impact
Supporting Small and Minority-owned businesses
Providing a pathway to economic success for all
Interested nonprofits can learn more and apply here: https://www.pbmares.com/pbmares-cares. A description of previous grant recipients is also available on this page. Deadline for submission is October 15, 2022.
About PBMares, LLP
PBMares is a Certified Public Accounting and consulting firm focused on serving the audit, tax, accounting and consulting needs of companies and individuals. Founded in 1963, the firm serves clients across the United States from 12 offices located in Virginia, Northern Virginia, Maryland, and North Carolina.  PBMares represents companies ranging from closely-held private businesses to leading non-profits to Fortune 500 multinationals. PBMares has industry practices specializing in construction, financial institutions, government contracting, healthcare, hospitality, insurance, manufacturing, not-for-profit, real estate, restaurant, retail, state and local government and technology sectors. Its services include cybersecurity, cloud accounting, wealth management and transaction advisory services. PBMares is an independent member of the RSM US Alliance and has been ranked among the top 100 firms across the country by Accounting Today, Inside Public Accounting, and Forbes Magazine.