The construction industry has been up and down the past few months. What seemed like a rebound in August going into September turned around by December. Early in 2021, backlogs are down, prices are up, and contractor optimism remains.
Looking Back
When COVID-19 first hit the U.S. earlier in 2020, construction's place as an essential industry helped to bolster initial fears of a sector-wide downtown. Not all states recognized construction as essential, and even in those that did, contractors faced myriad issues getting employees back to work. The new economic and business environment was highlighted by worker shortages, supply chain disruptions, price increases, new safety mandates, and more.
As a result, an industry that already operated on thin profit margins has been stretched even further. Yet, as 2020 progressed, cautious optimism remained.
Current Conditions
The present outlook for construction is mixed. Interest rates at all-time lows mean that contractors can maintain higher levels of debt, and certain tax-advantaged strategies like bonus depreciation and NOL carrybacks can help to leverage large purchases or losses in the current or previous year(s). But underwriting is more difficult in a tougher lending environment.
Construction is still essential and most likely won't be totally shut down by government mandates again, but projects are stalled or canceled altogether. Projects that were already underway were safe; now, the effect of COVID-19 on many industries means that less money is available to finance and fund new projects.
Evidence of this is in the latest Construction Contractor Index, which sees backlogs down by 0.5 month from the previous period, and down overall -1.7 months from a year ago. Heavy industrial continues to fare better in the current term but is down the most from a year ago.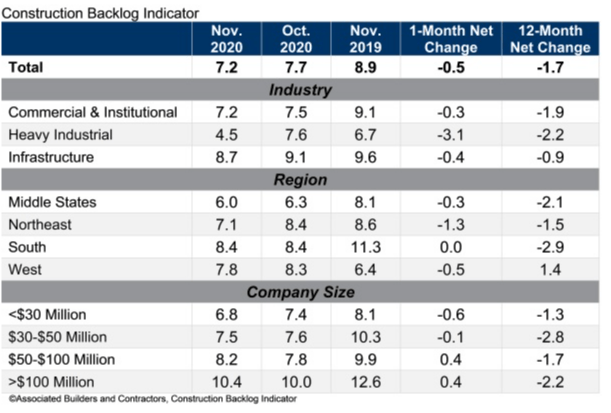 Source: Associated Builders and Contractors
ABC's current leading indicators for the construction confidence index are listed below. Comparisons are to the previous month.
Sales expectations: 49.4 (down 6.26%)
Profit margin expectations: 43.4 (down 7.86%)
Staffing level expectations: 53.8 (down 4.95%)
It is promising that many contractors expect their staffing needs to stay the same or expand slightly over the next six months. While profit and sales expectations are lower, it doesn't appear as if the industry is bracing for another recession.
What's Ahead for Construction in 2021
At the time of this writing, at least two COVID-19 vaccines have begun U.S. distribution. This is promising and a reminder that the end is in sight – even if it may still be months into the future. Construction has regained 63.6 percent of its pre-pandemic jobs, representing the third best performing sector according to a recent report in Construction Executive.
Earlier in the fall, ABC Chief Economist Anirban Basu cautioned that uncertainty remains in the coming months. Some markets, like luxury real estate and e-commerce, have done quite well in the pandemic. Others, like retail, hospitality, and Class A office space, are still figuring out a new way forward. Positives for the industry include additional federal stimulus dollars thanks to a new relief bill at the end of 2020, and certain expenses paid with PPP forgivable funds are officially tax deductible. Plus, Congress formally recognized that forgiven PPP loans will be treated as non-taxable income.
Government investments in transportation, water and sewage, and telecommunications projects should continue to drive infrastructure construction forward. Commercial and institutional construction may be able to expand upon project opportunities for renovations and retrofits now that COVID-19 health guidance is expected to change how buildings are designed and laid out. And Class B office space could be another opportunity to develop and/or renovate as it presents tenants with more flexibility and better pricing than its Class A counterparts.
Strategies to Mitigate Ongoing Risk
Given that profitability and industry optimism will continue to be volatile over the next several months, contractors can proactively manage their business through:
Expanding relationships with different suppliers and vendors
Pre-buying higher-in-demand materials to lock in lower prices
Training staff on core skills, investing in staff development, and diversifying industry verticals
Bidding only on work for which the contractor is uniquely qualified to do, and being extremely careful in the bidding process not to lower pricing
Revisiting the contract and ensuring appropriate language is in place to cover unexpected delays or price increases
Conducting cash flow and profitability analyses
Performing advance tax planning to take advantage of CARES Act and other year-end tax incentives
For now, contractors will need to stay the course, adjust as needed, and continue to plan for an uncertain future. The results of Georgia's runoff Senate elections mean that the Senate will hold a slim Democratic majority, meaning the likelihood for tax changes could be higher in 2021 or 2022. For more guidance on construction business management, growth, and tax strategies in a volatile market, reach out to your PBMares advisor or Jennifer French, CPA, Partner, and Team Leader of the Construction and Real Estate group.