Donor Confidence Results in Increased Charitable Giving
In June 2018, Giving USA issued their annual giving report estimating charitable giving in the U.S. totaled $410 billion for 2017, an increase of 5.2 percent or $20.38 billion over the prior year. Giving by each of the four major types, Individuals, Foundations, Bequests, and Corporations, saw increases over the prior year. Charitable giving was buoyed by strong individual giving which rose 5.2 percent. Significant investment returns experienced through the stock markets helped improve donor confidence to be more charitable.


So who is receiving the most donations? Charitable giving to Religion still tops the list at 31 percent, followed by Education at 14 percent and Human Services at 12 percent. Eight of the nine subsectors of charitable recipients realized growth in giving with only International Affairs experiencing a decline in 2017.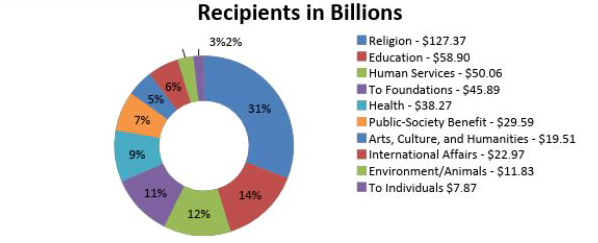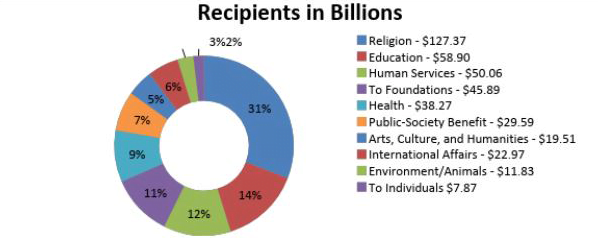 Total giving as a percentage of gross domestic product (GDP) was 2.1 percent. For the last 60 years, that percentage has been remarkably consistent, generally falling between 1.7 and 2.1 percent of GDP.
Although the bull market in U.S. stocks since 2009 has increased wealth, strengthened consumer confidence and boosted charitable giving in the U.S. to its highest point ever, the 2017 Tax Cuts and Jobs Act has a number of changes which could negatively impact giving for 2018. For example, the standard deduction is nearing doubling for all tax filers, thus lessening the impact on claiming itemized deductions. Because of changes to itemized deductions, individual giving could decline between 4 and 6 percent in 2018. You can read more on how tax reform may negatively impact charitable contributions here.
Time will tell if tax reform has a negative impact on donations or if investment growth and donor confidence will continue the trend of increased giving.