Upcoming Monthly Live Webinars for 2021
PBMares' live webinars provide the opportunity for knowledge and insight on topics most important to you. Register to reserve your spot for any event below and receive a reminder as we move closer to the event date. Contact us if you have any questions and we look forward to having you join us!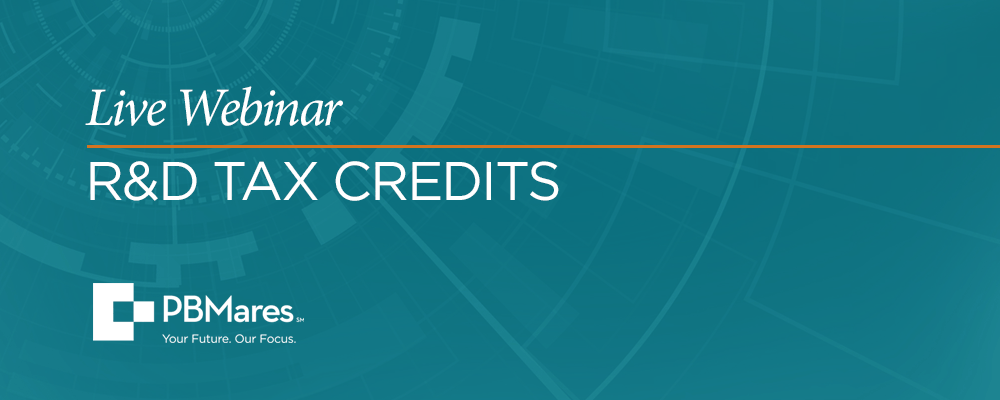 Stealth Weapon: R&D Tax Credits
October 6, 2021  |  Noon to 1PM
Tax credits are available to companies of all sizes in a number of industries who have invested time, money and resources in improving their products and processes. Don't miss out on tax credits that you're eligible for. Taking advantage of the specific tax savings opportunities available to you is a smart business strategy. PBMares' tax experts, Nicholas Perrine, CPA, Partner and leader of our Credits & Incentives Team, along with Grayson Thomas, CPA, will help you understand more about this stealth weapon in your business strategy.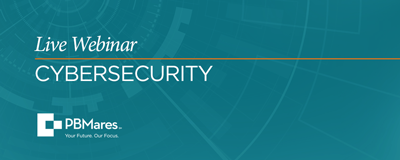 What Can You Do to Prepare for the Next Cyber Attack?
October 13, 2021  |  Noon to 1PM
During this webinar, Antonina K. McAvoy, CISA, Senior Manager and Leader of the firm's Cybersecurity & Control Risk Services Team, will discuss the three most common cyber misconceptions and exposures for your organization.  In addition, she will provide guidance on controlling these risks through IT standards, best practices, and insurance coverage.  She will also outline actionable steps you can take to respond to the next cyber or supply chain attack to mitigate compromising your organization's data – as well as your customer's data.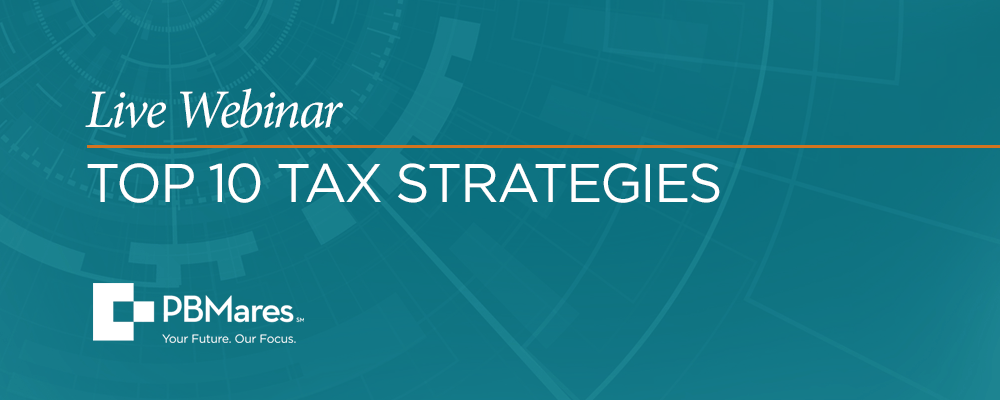 Top 10 Tax Strategies for 2021
November 3, 2021  |  Noon to 1PM
Join PBMares' Partner and tax expert, Jeffrey Williams, CPA, as he covers the ten most practical strategies for 2021 to save you money – if you implement by December 31. We look forward to having you join us!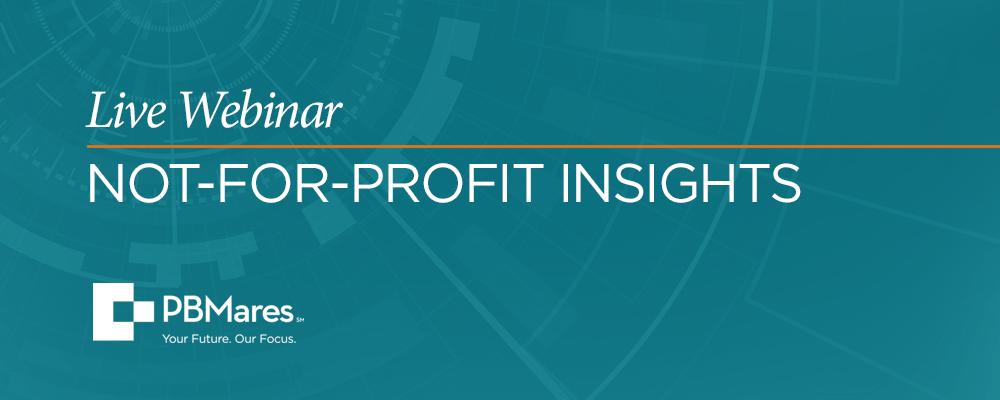 Challenges and Opportunities for Not-for-Profits
December 1, 2021  |  Noon to 1PM
Partner and Not-for-Profit Team Leader, Bo Garner, will share observations and insights on the challenges and opportunities not-for-profits face in the year ahead as they fulfill their missions in a changing economic, societal, and technological landscape. Based on direct experience with numerous organizations, Bo will provide a practical and clear path to help not-for-profits position for success in 2022.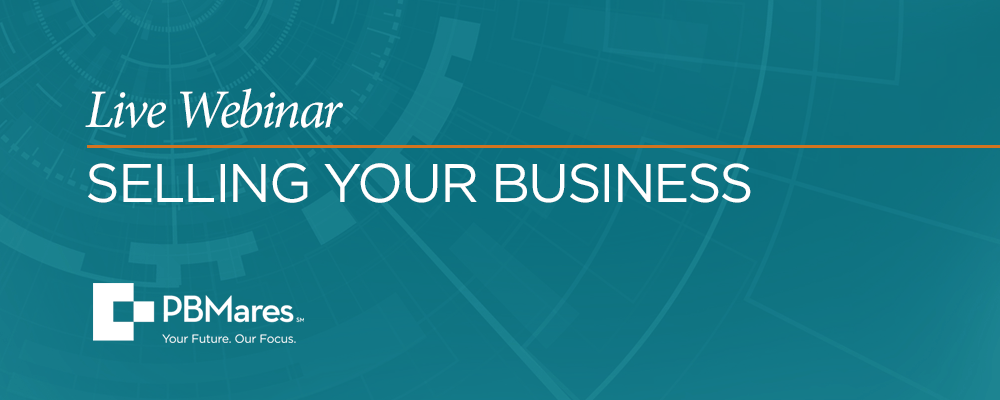 Five Tax-Efficient Ways to Sell Your Business
September 8, 2021
Selling a business can result in a significant— and costly— burden: taxes.  Many times the burden can be minimized with the right education and awareness of the different tax structures that can be leveraged to maximize your return when selling your business. Sean R. O'Connell, CPA/PFS, CGMA, PBMares' partner and Risë Flenner, CPA/PFS, J.D., PBMares' Director of Succession Planning, will present options for creating a smart tax structure for the sale of your business that could ultimately help you save money.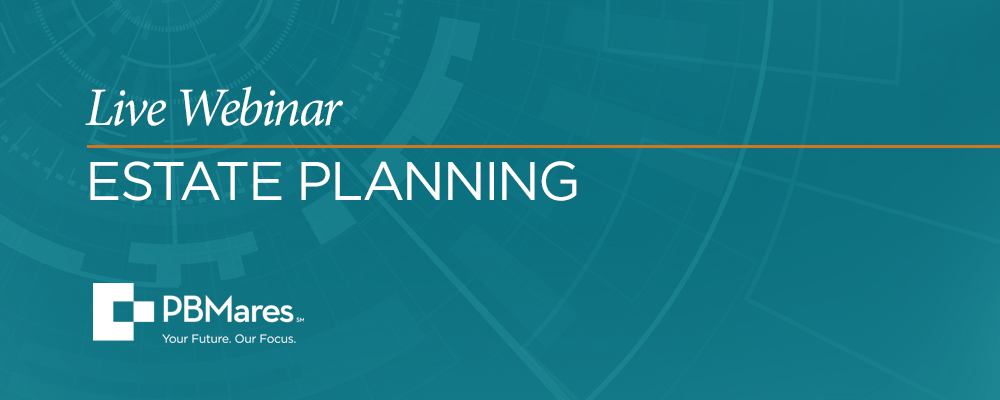 The Family Love Letter
July 7, 2021
We will all leave a legacy, but how we leave our "paper trail" can add either confusion or clarity during a time of grief should you pass away or become incapacitated. The Family Love Letter is an indispensable planning tool that organizes your important documents, financial information, passwords, and other details in order to minimize stress and conflict for your family. The Ethical Will portion gives your loved ones insight and direction about your desires and intentions for generations ahead. In this webinar, wealth advisors Daniel Yoo, CFP®, CEPA® and Michael Maglieri from PBMares' Wealth Management team introduce The Family Love Letter, including how to secure one for your family.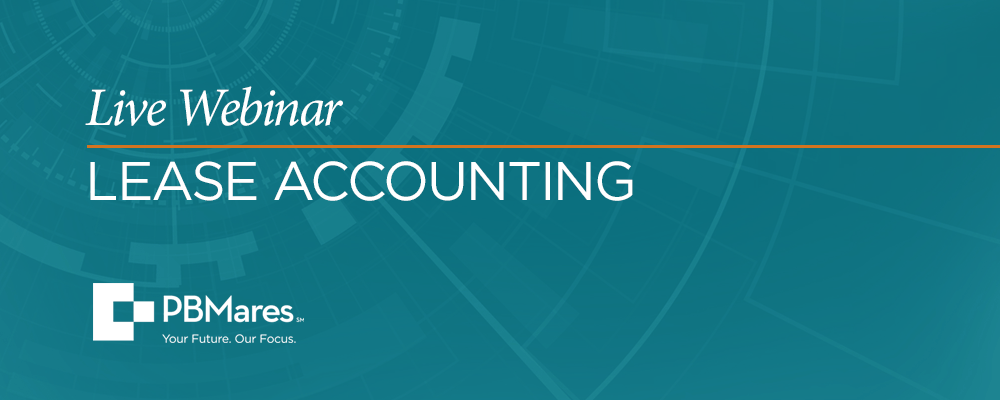 Getting Started with Lease Accounting, ASC 842
August 4, 2021
LeaseCrunch is a cloud-based solution created to help organizations implement the new lease
accounting
standards, including ASC 842 which was issued to replace ASC 840. In this webinar, Jess Vento, Director of Client Success at
LeaseCrunch
, covers what to do before you get started, identifying the entire lease portfolio, analyzing current processes and more.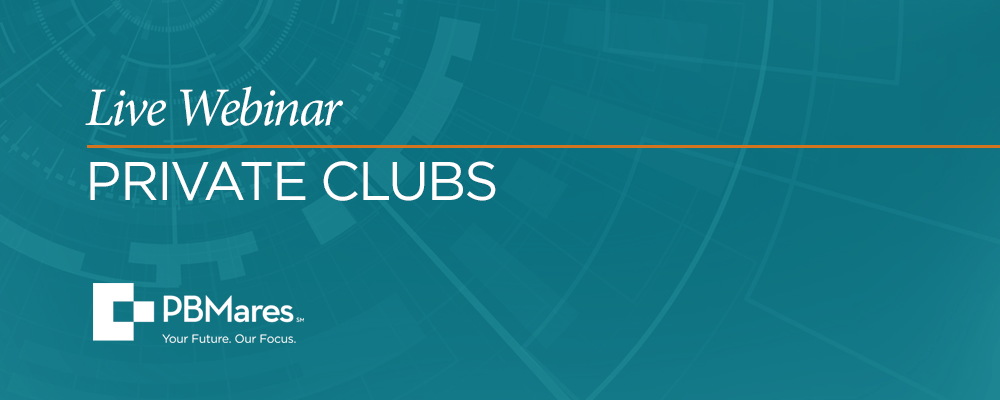 Clubs in Town & Country
This event has been postponed until a later date. Details to come.   PBMares' annual benchmarking report, Clubs in Town & Country is a must-have management and operational aid for clubs throughout the United States and Canada. With the reality that COVID-19 will continue to impact your club in 2021, how will you adapt to survive – and thrive? Join Kevin Reilly and other experts from our Private Club Team as they recap last year's results, reveal the latest trends, and share insights on how clubs are coping with the ever-changing landscape. The exclusive 2021 edition of Clubs in Town & Country will be available following this webinar.